When we decided to exhibit at Tatton Park Wedding Show we quickly got thinking about how we could showcase what we did as a Wedding Planner whilst still displaying some advantages of hiring a wedding planner such as working with the best suppliers in the industry.
We set up at Tatton on Friday 5th Feb and the fantastic Adi was there from Verdure Floral Design as he had offered to do us a gorgeous floral display for our stand. I think you can agree that the finished product was absolutely beautiful and it definitely had people talking and admiring it when they passed our stand.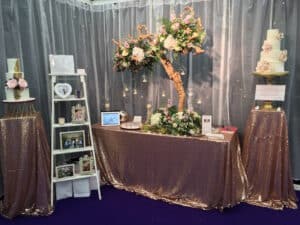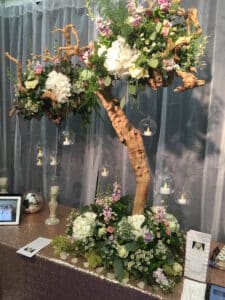 Other suppliers we worked with included Sapphire Bespoke Events who provide venue dressing across the North-West. They very kindly let us use their white display ladder to display photos of our wedding on and the gorgeous rose-gold sequin table cloths which were also a big attraction point as people walked past. We wanted to display some cakes that fitted in with our gold and pink business branding and so we used 2 cakes from Marie Antoinette Cakes which matched our stand perfectly. Blue Orchid Florist also let us use their plinths to display the cakes on.
After designing and setting up our stand we quickly got to work with our exclusive Charlotte Elise Weddings and Events goody bags we gave out over the Saturday and Sunday. This was another collaboration with some of our fantastic suppliers as we wanted to display a wide range of wedding favours that are available. If you were lucky enough to receive one of our goody bags you all would have found inside; Brazilian Happily Married Cakes from Love to Bits. These are delicious cakes which are extremely popular in Brazil and now available in the UK. We also had tasters of their chocolates on our stand which went down extremely well! You would also have found a lovely chocolate truffle from Eponine Chocolates and then a selection of Biscuits from The Frostery, Scented candles from Truly Lovely Candles and Bath Bombs from Savon Claire.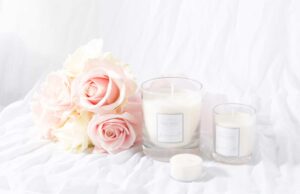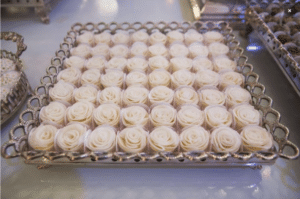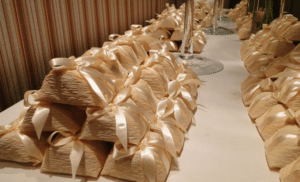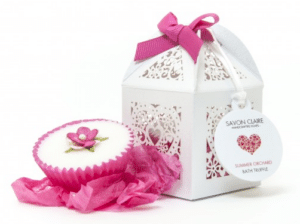 We definitely couldn't have done it without all of the suppliers mentioned above so please see below for their contact details.
The two days of the show went really well with lots of brides and grooms-to-be interested in the range of packages we offer such as Full Planning, Partial Planning, Bespoke Planning and the On-the-Day Wedding Management Package. We were often asked about the advantage of using a wedding planner and so see our top 10 reasons below.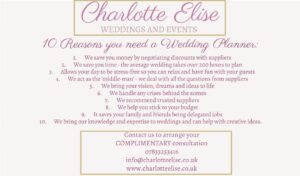 We really enjoyed exhibiting at Tatton and it was a great weekend meeting lots of suppliers we hope to work with in the future, past suppliers we have worked with before and interested brides and grooms-to-be.
Remember we offer Complimentary Consultations at a location suitable for you so get in touch now before your date gets booked up!
WITH MASSIVE THANKS TO:
Verdure Floral Design (www.verdure.co.uk)
Love to Bits (www.lovetobits.co.uk)
Sapphire Bespoke Events (https://www.facebook.com/Sapphire-Bespoke-Events)
Marie Antoinette Cakes (http://macakecompany.co.uk)
Blue Orchid (http://blue-orchid.co.uk)
Eponine Chocolates (http://eponinepatisserie.co.uk)
The Frostery (http://thefrostery.co.uk)
Savon Claire (http://savonclaire.co.uk)
Truly Lovely Candles (http://trulylovelycandles.co.uk)