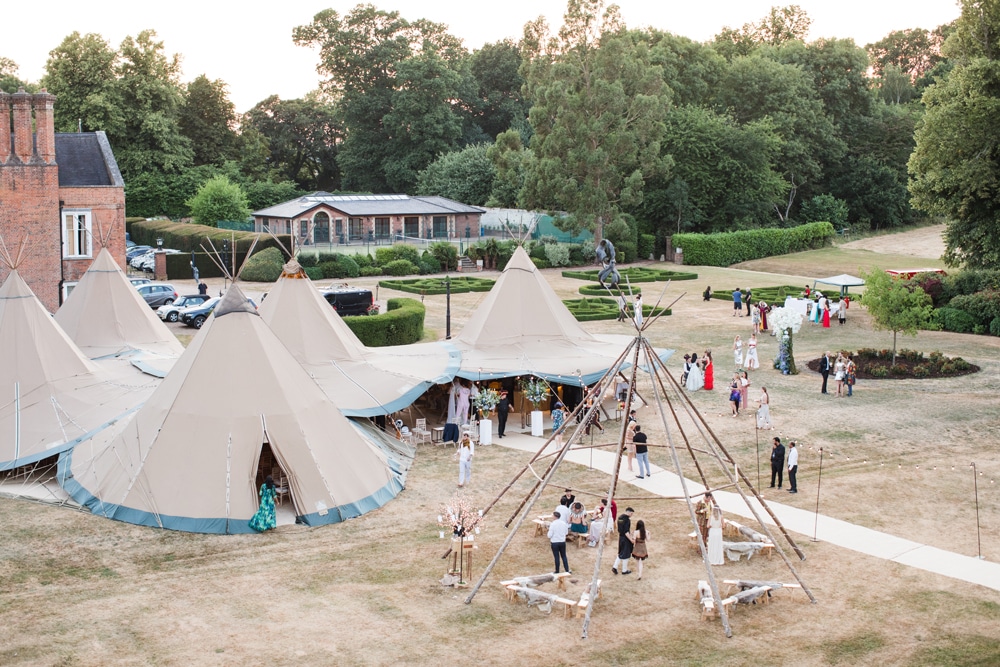 In the Summer we were tasked with the exciting job of planning a not-your-traditional wedding – a Discovery Themed Event. We work on such a wide-range of weddings and events and our couple wanted something a little bit different. They travelled a lot and had many favourite locations they had experienced together as a couple. The brief was to incorporate this into their wedding. We did this in a way in which the guests would discover more about the bride and groom in the process.
The wedding was to take place on the groom's family estate in Buckinghamshire. The plan was to have as much outside as possible and use the different areas of the garden. After the groom arrived by helicopter with his groomsmen the ceremony begun under the trees. This was in front of the backdrop of the beautiful house.
Following this we used the stunning setting of the lake for the drinks reception. We had this dressed with chandeliers, festoon lights and naked tipis so the area was illuminated. Next to this we had large tipis from the amazing Tipi Unique in another area of the garden for the wedding breakfast. In all different areas of the garden was a different 'satellite' with the theme of a certain country. For example we had a British area with a Fish and Chips van and a traditional Fairground Ferris Wheel. In another we had a Russian section with traditional Russian food and music. The guests were given maps to locate different areas around the grounds and were told to congregate at certain times for entertainment and speeches.
It was such a wonderful, fun evening for all 200 guests which finished with Yurtel providing mini-tipis, toilets and showers for the guests to stay over in. A brunch the next morning ended the celebrations before guests made their way home.
Tipis – Tipi Unique
Images – Cecelina Photography
Flowers – Early Hours